5 Ways to Make Sure Your Tenants are Happy in your Rental
Replacing tenants each year can be a very costly way to run a business. Between missed rent, advertising, and turn over maintenance, you will feel the hit to your pockets as a property manager or landlord. When it comes to St George rental management, good tenants are as good as gold financially. If you get some tenants who are responsible and diligent about taking care of your unit, you would be wise to do all you can to keep them. Here are 5 simple and cost-effective ways to keep your tenants happy in your property, so that they will stay a long time.
1. Leave them a house warming gift
A gift does not have to be expensive or extravagant, or even personal necessarily. But a simple gift of artisan bread, wine, tea, or a local honey or other specialty will help your renters to feel welcome and excited about their new home and new relationship with a landlord that cares about them. Renters that feel cared about will be more trustworthy and reliable, for the duration of your relationship. Your St George rental management endeavor will appear completely professional, with a focus on detail and client service.
2. Educate them about the property
Every house or town home is different, and your new renters are sure to appreciate some information on how to keep up with basic maintenance so the home stays in great condition. A simple walk-thru with instructions on programming the thermostat, using the fireplace, and changing the AC filter every couple months will help your renters to feel empowered and at home in their space. You will also want to include any community or HOA rules, as well as what day the garbage is picked up, and when yard work will be done. Leaving your tenants in the dark to just "figure it out," will leave you with tenants that feel set up to fail, and therefore frustrated and unhappy. A little education also goes a long way to help tenants feel motivated to take initiative for small repairs and maintenance. This can be a great help to a busy St George rental management firm, but only if the tenant has been taught how to do things right.
3. Give them their space
It is good practice to check in with your renters after the first month or so of their lease to make sure they are settling in comfortably. A casual phone or email from your St George rental management company works perfectly, and either avenue provides a great opportunity for the renters to let you know about any questions or issues they have run into since moving in. Many people don't know what questions they might have until they are actually living in and using the home every day, becoming familiar with its quirks. Many people also don't like to complain if something is still livable, and they may live with subpar comfort if no one asks them how things are going. By checking in with your new renters, you can keep abreast of any maintenance concerns on the property, and also improve your relationship with your renters even further. After that initial check-up, leave your tenants alone. Although you may have the best intentions for stopping over for a friendly hello, tenants will start to feel harassed. You want tenants to feel that they have their freedom and privacy in the rental, so it is best to let them make it their own.
4. Respond to concerns immediately
Arguably one of the most important things you can do as a landlord to maintain a great relationship with your tenants is to always respond to maintenance issues and other concerns quickly. Texts, emails, and phone calls, should absolutely be returned the same day they are received by you as a professional in St George rental management. This doesn't mean you have to completely solve the problem that same day, especially for extended projects. But it is best to respond with a quick message that lets the tenant know you have received the message, you are working on their issue. A tenant will be more comfortable know they are heard, even as they wait for the actual repair. Keeping prompt communication will go a long way towards having trustworthy tenants.
5. Offer an incentive for lease renewal
If your favorite tenant stays in your property for an extra year or two beyond the original lease, you are each experiencing a win. Your tenant will be happy to save time and money with the stress of moving. And you as the landlord will save the cost of advertising for a new renter, or the chance that you may not fill the unit in time to get the next month's rent. You can offer to lock in the same rent price for tenants that renew, or a signing bonus like a gift card or rent credit. If tax prices and HOA dues that you pay as part of St George rental management require an increase in rent, these other incentives will help to offset the increase in your renter's eyes. You can also refresh the paint, appliances, or flooring as a nice gesture for charging a higher rent price, while still keeping renters happy with their lease and living situation.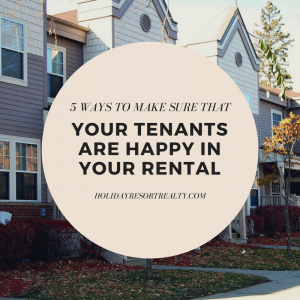 5 Ways to Make Sure Your Tenants are Happy in your Rental
St George Rental Management
Article by Clear Content Marketing