5 Tips To Get The Best ROI On Your Rental Properties
Owning and operating rental properties can be one of the best ways to generate passive income. If done correctly, the real estate market can be hard to match when it comes to returning on investment. In order to increase profits, costs need to be kept low. Sometimes it's hard to save money while you're trying to get the best bang for your buck when remodeling and tidying up one of your St. George, UT rental properties. We want to provide for you some suggestions that are sure to increase the value and quality of your property while at the same time expanding your possible earnings.
1. Remember that it's not your home, it's your rental property.
To begin with, it's vital to not labor with the exact strict guidelines that you probably stick to with the home that you actually live in. I know it sounds harsh, but you just can't expect or strive for perfection when you renovate a property that you are using to rent to someone else. It's not realistic or necessary to try and make it as picture perfect as your own home probably is. Obviously, you want the tenants to take as good of care of your rental property as possible. But keep in mind, it may be a fairly temporary home for them. Just make sure it looks appealing and comfortable. This is an important St. George, UT property management tip.
2. Provide the renters with a clear vision.
A well-staged room will allow the renters to envision what their life will be like while living there. Any interested person who's thinking about renting your property in St. George, UT is deciding whether they see a life there. Does their furniture fit? Can they imagine coming home to this property each day? This issue needs to be tackled by showing your place as effectively as possible. Make sure the lighting is inviting, make sure it's not dusty, etc. You get the picture. Sometimes a small investment of time or money to make the place look more appealing can be returned to you many times over when you land a happy long-term tenant for your rental property.
3. Before buying new things, try to fix them first
Having the carpets cleaned professionally is usually the best way to go. Don't spend more of your money and time than is necessary. A lot of property owners tend to get in there quickly and empty the place and paint it all and then hastily install some carpet in hopes that their new renters can get in their asap. This seems like a good plan on the surface maybe but remember: time is money. There are many qualified professionals in St. George. Sometimes, getting these things done by professionals will yield better aesthetic results and thereby fill your vacancy faster. 
4. The bathrooms and kitchen must be prioritized
Studies show that an immaculate kitchen is one of the most likely factors of a rental property that will initially attract a really good renter. A shiny, spotless kitchen (and bathroom) catches people's eyes quickly and effectively. Never underestimate this fact. If you own a home with a significantly old and antiquated kitchen, it would be in your best interested to take steps to make it look nicer and as modern as soon as possible within your means. Also, if flipping your St. George, UT Rental Properties in the next few years is what you're planning on doing, the ROI on an updated kitchen and bathroom is enormous. You've got to prioritize those. Most home updates are very difficult to get your money back dollar for dollar. Expenses in the kitchen if done correctly can be an exception to that rule. 
5. Get new lights and tidy up a lot
When it comes to rental properties, a little cleaning goes a long way. A tenant will often mirror your interest in maintaining the property. What that means is, if you show them a dirty rental, and they take it, they may treat it poorly. Clean it well. Show that it is a nice place to live. When you're cleaning up, make sure to use the right cleaning agents and hot water. Also, remember that it isn't necessary to redo entire rooms. Most of the time little fixes and additions here and there are just as effective as gutting the whole thing, and much less time-consuming. Make sure you clean the place every time someone new is about to move in. I know this may seem obvious, but you'd be surprised how many rental property owners shirk this one. One other small fix with big selling power is new light fixtures. It makes such a big difference. Trust me. Get new ones if they look out of date or broken. Good lighting is inviting. As someone who's in the St. George, UT property management industry, we know that you will benefit from this information.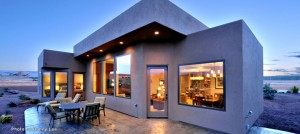 St George Utah Rental Properties
Those five tips will all help, the truth is though- hiring a property management company will increase your ROI more than really anything else you can do. Yes, you will pay a fee, but you will save an enormous amount of time and turn these issues over to professionals. A good property manager can get you better tenants, charge higher rents, and save you loads of time so that you can focus on what you do best while we increase your passive income.